Machine Shop
Floor space – 14,000 Sq Feet
Installed with 2 nos 3mt Cranes
Floors are covered with Polyurethane paint
For material handling from foundry to machine shop using the 2t toyoto fork lift
| MACHINERY | UNITS |
| --- | --- |
| Conventional Lathe | *1 |
| Conventional Radial Drilling Machine | *1 |
| CNC Turning Centre | *2 |
| CNC Vertical Turning Lathe | *2 |
| CNC Vertical Machining Centre with 4th Axis | *2 |
| Washing Machine | *1 |
| Hydro test Setup | *1 |
Machine Shop Building
Bright foundries, recently setup an in-house machine shop to handle the machining requirements of worldwide customers. This setup enables company to meet the customer requirements with in best lead time, also we are supporting the customer for special process like E-coat, Powder coating and plating through our valuable suppliers , In addition to our in-house facility, we also leverage our strong relationship with local machining suppliers to meet on-time delivery.
We have machining capabilities are on par with the best in the industry. Our machine shop is equipped with world best machines made from Korea by Doosan CNC machines . These machines are capable of handling components of different sizes at high precision quality.
We are supporting our esteemed customers by highly experienced team of Engineers, machinists and fully equipped tool room. In addition, we are taking intensive care of quality of products by our well trained quality personnel with worlds best instruments like CMM (Carl Zeiss), Trimos, etc.This enables the team to achieve higher levels of excellence.
DOOSAN VMC DNM 6700
MACHINE SPECIFICATIONS
X-AXIS TRAVEL
1500MM
Y-AXIS TRAVEL
670MM
Z-AXIS TRAVEL
625MM
Maximum Weight can be loaded
750Kgs
Total Capacity
500 Hrs/ month
Number of tools in ATC
30
PUMA GT2600 DOOSAN
MACHINE SPECIFICATIONS
SWING OVER BED
650MM
X-AXIS TRAVEL
460MM
Z-AXIS TRAVEL
800MM
Maximum Weight can be loaded
40Kgs
Total Capacity
500 Hrs/ month
220LC DOOSAN HTC LYNX
MACHINE SPECIFICATIONS
SWING OVER BED
510MM
X-AXIS TRAVEL
175MM
Z-AXIS TRAVEL
550MM
Maximum Weight can be loaded
30Kgs
Total Capacity
500 Hrs/ month
DOOSAN VMC DNM 650
MACHINE SPECIFICATIONS
X-AXIS TRAVEL
1270MM
Y-AXIS TRAVEL
670MM
Z-AXIS TRAVEL
780MM
Maximum Weight can be loaded
750Kgs
Total Capacity
500 Hrs/ month
Number of tools in ATC
30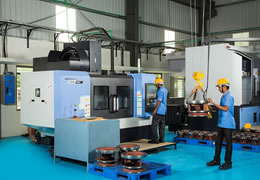 DOOSAN VTL PUMA 550
MACHINE SPECIFICATIONS
SWING OVER BED
800MM
X-AXIS TRAVEL
490MM
Z-AXIS TRAVEL
780MM
Maximum Weight can be loaded
750Kgs
Total Capacity
500 Hrs/ month