Quality casting with on-time delivery
We are delivering defect free quality castings on time and every time. Our customer can schedule their factory requirements with the expectation that our castings will meet their needs. We manufacture the products integrating well-qualified and experienced engineers, sophisticated machines and genuine raw materials. We use world-class, state-of-the-art testing and validation facilities.
Quality Policy
We commit to enhance Customer Satisfaction through the following
Meeting all applicable requirements
Proper responses to the queries
Providing Quality Products & Services
Effective Utilization of Resources
Continual improvement of operating methods & systems
Our Testing & Validation Process Include
Fully Equipped Sand testing facilities
Universal testing machine 40 tons capacity with electronic extenso meter
Impact tester
CEE Meter
Metallographic laboratory with image analyzer
ARL 3460 spectrometer capable to test 26 elements
UT Wall thickness meter
TRIMOS – 2D HEIGHT MASTER
Zeiss CMM Contura G2 – Table Size 1000 x 1600 x 600mm
In-house NDT facility –LP & UT (MPI & RT – Out Source)
RAD Check Meter (Radioactive contamination test in Quality) Facility in Inspection.
Foundry Division
Sand Test Equipments
Spectro meter and Micorscope
Universal Testing and Impact Testing Machines
Certified by TUV –Nord for ISO, PED, AD2000W0
Llyods Marine Approved foundry
Machining Division
ZEISS CMM CONTURA G2 : CMM SPECIFICATIONS
X-AXIS TRAVEL : 1000MM
Y-AXIS TRAVEL : 1600MM
Z-AXIS TRAVEL : 600MM
TRIMOS – 2D HEIGHT MASTER
MACHINE SPECIFICATIONS
RANGE
0 TO 600MM
LEAST COUNT
0.0001µ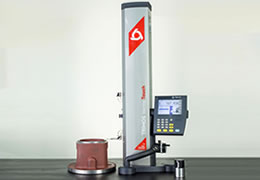 ZEISS CMM CONTURA G2
MACHINE SPECIFICATIONS
X-AXIS TRAVEL
1000MM
Y-AXIS TRAVEL
1600MM
Z-AXIS TRAVEL
600MM